This month's interview is with Jim C. Hines, author of The Stepsister Scheme.
Hello, Jim, and welcome to Scribe's Writing Desk. First off, I must thank you for taking the time to let me interview you. Now, let's get stuck into the questions. Tell us a bit about your writing background.
Well, I've been writing since 1995. My first real success was in 1998, when a short story of mine won first place in the Writers of the Future competition. Since then, I've sold about 40 pieces of short fiction and six novels to DAW Books. It's only in the past few years that things have really started to take off. My oddest writing sale was a story published on a coffee can, and the most profitable was a four-word bumper sticker to Northern Sun.
That's impressive! It doesn't surprise me about the sticker either. We've always been told that there's not a lot of money in writing. Tell us about your latest publication?
My latest book is The Stepsister Scheme, which is basically a mash-up of fairy tale princesses and Charlie's Angels. It's the book I wanted to write since my daughter was younger and our house was flooded with princess merchandise. It goes back to the early fairy tales and presents three heroines who get to kick butt, fight the bad guys, and save the prince. There will be at least three books in the series, and I'm really excited about them. Also, it has the best silverware combat ever. 😉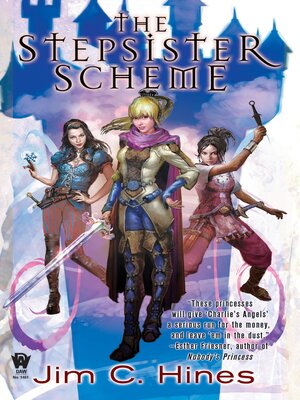 Hah! Children are inspiring in so many ways. What project are you working on at the moment?
I'm actually working on the third princess book right now, Red Hood's Revenge. Of course, in my universe, Red Riding Hood ended up being one of the most feared assassins in the land….
I always thought there must have been another side to her. Do you work on more than one story at a time? If so, how do you manage it?
I know writers who juggle multiple projects, but I've never been able to handle it. If I get an anthology invitation, I have to put my current project on hold, write the short story, then go back to the original project. My brain has a hard enough time holding on to one story; it just can't handle two. Though if I ever get to the point where I can quit my day job and write full-time, I might push myself to change this.
I can totally relate to that. How do you balance writing with the rest of your life?
Eight years ago, I took a government job specifically because I knew it would allow me to write during my lunch break. Since then, I write during my lunch, an hour a day for five days a week. It's not a lot, but that's when I get most of my fiction done. I've also got two young children at home, and my wife recently started grad. school, so time management is always a bit of a trick. My wife has been very supportive, which helps a lot. Mostly it's a matter of choosing what's most important and making time for those things. (There's a reason I haven't played a video game in years.)
Now that is dedicated! I'm impressed. What advice would you give to a newcomer to writing?
Be patient, and be stubborn. Regarding patience, if you wanted to be a doctor, you'd expect to spend years studying. An electrician? Years of study and practice before you're licensed. Writing is no different. It takes practice and time, and if you expect to break onto the New York Times bestseller list right away, you're probably going to be disappointed. The stubbornness goes hand-in-hand with the patience, because you will be rejected. Most successful writers seem to have anywhere from 500 to 1000 rejection letters. But the best response to rejection is that stubborn determination to do even better with the next story.
What are your writing goals for the future?
I'm not sure, honestly. I want to do at least four books in my current series, assuming it sells. I know I want to keep writing for as long as my brain and my fingers still work, but as to what's next? Well, I'll figure it out when I get there. Maybe a nice blend of Twilight and Harry Potter so I can make my billion dollars and retire to a life of luxury.
Sounds like an interesting concept. Best of luck for the future and thank you. It's been a pleasure talking to you.
If you would like to find out more about Jim and his books, please visit his website and his blog.